MAZDA DIGITAL SERVICE
When you bring your vehicle to Nelson Mazda, you're in control. Securely book appointments, make payments, and more—all through your smartphone. We're also making repair decisions easier and more convenient than ever, with our multi-point inspection videos that allow you to see exactly where service is needed. Get the most out of your service experience with Mazda Digital Service.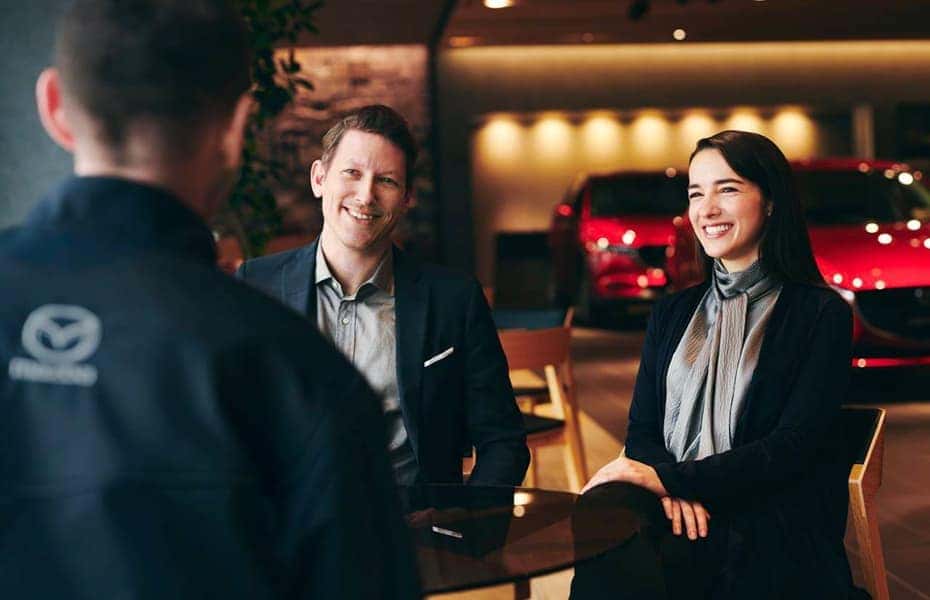 SPEED UP YOUR PROCESS
Make your buying experience faster by applying for financing ahead of time. We work with a network of banks to help you get into the vehicle that is your perfect fit.
Nelson Mazda Tulsa Testimonials
A sincere THANK YOU to all our favorite customers!
Straight forward, honest candid dealership and easy to do business with. That includes all departments. Thank you all!
I was impressed with the salesman's knowledge, professionalism and the overall customer service. I love my car and I'd highly recommend Nelson Mazda to anyone.
Let me just start off by saying that Omar is the bomb!! I came into Mazda searching for an SUV that was going to work for my family. Omar never tried to pressure us into buying anything specific, he truly wanted to help us find something we genuinely wanted (whether that was a Mazda make or not). I had been super picky with what I was wanting and he was very patient with me. He showed us 3 different SUV's and the third time was the charm. He explained the sale process with us and made sure we understood each step throughly. Such an awesome guy to work with and super appreciative of him! We would definitely buy with him/mazda again!
Omar helped me buy my Genesis! Never a hint of being annoyed with all my questions! He only seemed interested in doing whatever he could to make the process easy for me. I couldn't have prayed for a better experience! I also had at least 4-5 other people come up to me to check on me throughout my visits and they were all class! Thank you Omar and the Nelson Mazda team!
**edit** I had the wrong Nelson dealership in Broken Arrow. Changed my rating from a 2 to a 5.
I recently had my Mazda serviced at an out of state Mazda dealership and it was a nightmare—it truly made me realize how wonderful the customer and vehicle service is at Nelson Mazda! Thank you for all that you do to make the customer experience great!
I did not get a vehicle that day, it wasn't for customer service or the people as it and they were amazing and stood out compared to the rest of the dealerships I went to that day.
I had a great experience at Nelson Mazda. After a lot of online research, I decided to consider a new Mazda CX-5. I visited Nelson Mazda, primarily to test drive a car to see if I liked it. I ended up purchasing one that day, not only because I really liked the car, but also because of the service I received. Omar, my client advisor, thoroughly explained all of my options and was transparent through the entire process. He also took me to the service department, which was a big benefit since ongoing maintenance is important to me. Everyone that I met at the dealership was very friendly and welcoming; it gave me a lot of confidence in my decision and in Nelson Mazda.
My husband and I have now purchased 3 vehicles through Nelson Mazda, and we will NEVER go anywhere else. The entire experience is fantastic, and the customer service is top-notch. THIS is how it is supposed to be!
Found the car I was looking for here at Nelson. Problem was I was in Florida so it was hard to see and test drive the car. No problem for Bill and the sales staff at Nelson. The did a virtual test drive for me, answered all my questions and concerns, dropped the vehicle off for a 3rd party inspection and shipped it to my home. Bill and his team did quite a bit of work so I would feel comfortable buying the car. No pressure and awesome communication all the way through delivery. Thank you!
We had a GREAT experience purchasing our new CX-5 From Dre at Nelson's. This young man is very knowledgeable and helpful. If he didn't know the answer, he would find out what the answer was for us. I highly recommend him and the Mazda family at Nelson!!
Great service as always. Geoff was an 11/10.
I Came to Nelson Mazda knowing what I wanted. I was greeted by Aaron Humprey and he got right to work. He went well above my expectations. Hard working, professional, and thorough. I would surely buy my next car from him, although I could see him in a leadersip or training role in the near future.
I was initially interested in a few used Mazdas but ended up purchasing a used Honda Civic with Joy as my client advisor and was very happy with my experience and treatment at the dealership. She never once came across as pushy and was a breath of fresh air after my experience with a few other people at other dealerships. Very clean and nice dealership as well. I also felt very well treated by the other staff around the dealership. Overall it was a great experience and I'll probably come to Nelson Mazda first the next time I need another car.
We were in the market for a 2016 Stingray and found that Nelson Mazda had one located at their Tulsa store. Upon arriving we were greeted by Chris Binnesh. He helped us look at and set up a test drive. After driving we were impressed with the car and decided to purchase it. I was pleased with how personable Chris was and the deal was made, however after we left the car developed an issue that had a bulletin issued on this particular model. After calling Chris and telling him of the issue we returned to the dealership where he stayed afterhours and then went with me for a drive to understand what the issue was. We left the car and by Monday they determined the issue we experienced was explained in a bulletin that Chevrolet had put out on this issue. Chris was very good at communicating with us what was happening and what the plan was to fix the problem. By Tuesday they had finished with the fix and unfortunately, we were unable to get back to Tulsa until Thursday. The car ran flawlessly after we picked it up and the Team at Nelson were quite pleasant to work with. They stood behind their product and made every effort to make the deal go as smooth as possible. I would Highly recommend them if you are looking for a car new or used in the Tulsa area, or wherever you my live, as we live in Wichita Ks. Thanks again Chris for all your help!
Joy was a pleasure to work with! She made the entire car purchasing experience easy and stress free! Best car buying experience to date! We are loving our preowned Acura MDX!
First off my salesman "CHRIS" gets 10/10.. my dude went above and beyond! I told him what i needed and my man made it happen! I drove from 3 hours away cause my old friend Shawn works in their paint correction dept! It was for sure worth the drive to Tulsa!
We are from Texas and saw a advertisement for a Mustang like we had been looking for, so we reached out to Nelson Mazda. We got in touch with TJ Owens, he was very nice over the phone. We asked him if he would take a video of the car inside and out. He did and pointed out a few issues that we were okay with. We went ahead and bought the car, over the phone trusting that this dealership was reputable from what we had read. When we got to the dealership to pick it up, we saw most of the issues he had mentioned in the video that were spot on, however, right away we noticed a tear in the drivers seat. We brought this to TJ's attention and he said he would go asked the manger if there was anything they could do about it. We went ahead and left as is. We got a estimate for the damage and they sent us the full amount so we could get the seat fixed. Great customer service, were able to turn a potential negative, into a very positive experience. On another note, Addison Walton in their finance department is fantastic!!!!
I had an amazing experience as a first time buyer with Mathew! He was very patient & walked me through all the cars I wanted to see. Absolutely no pressure with any of my purchases and was overall a great experience.
Cam did an excellent job dealing with my frustrating demeanor! He was up front with the costs, didn't get annoyed when I turned down the extras, and gave me time to work out my budget without being overbearing. My only complaint is the lack of free Mazda merchandise but that's just me being cheap! You won't regret coming here!
From peaks to desert valleys and every creek or track in between. Hashira Yorokobi! To everyone at Nelson, My sincerest thank you for putting up with whom I have no doubt that to be your most difficult customer. Domo arigatozaimatsu, EWM
***Update*** You will not find customer service anywhere like you will at Nelson Mazda. They care about their customers and will go above and beyond to make your car buying experience the best one possible. I had an issue with a used car that I purchased and posted my review, and within a few days was contacted by 2 different team members. One of them being the service manager Matt. He listened to my concerns and stayed in contact with me until my issue was resolved, which for most places is unheard of. I highly recommend coming here because this company does honest business and puts the customer first.
Cam was the sales person that helped me with the purchase of my Chevy Cruze. Mazda would not give me what I wanted for my trade so I took it over to CarMax and sold it to them for what I needed to purchase the Cruze. I was impressed with Cam he called me and sent me a text while I was at CarMax. I purchased the Cruze along with a package to have the windows tinted, seats treated and the diamond shield put on the front of the car. Cam will get the job done.
I have been dealing with Camden Swan one of the sales associates there and can not be more pleased with his service and help with finding my wife her new Mazda! He has been a joy to work with in both his attitude and knowledge which have both been first rate! Thank you Cam! Darren Jenkins
Cam is amazing! Make sure to ask for him if you go looking for your next vehicle at Nelson Mazda! Everything was great! Super happy with my purchase! Cam worked with me until the very end! Again Cam and Nelson Mazda thank you so much!
Welcome to Nelson Mazda Tulsa
Nelson Mazda Tulsa is proud to be your preferred Mazda dealership near Tulsa. We are excited for the opportunity to serve your new Mazda car/truck/SUV, pre-owned vehicle, and Mazda Certified Pre-Owned vehicle needs. We believe in providing our guests the kind of efficient, stress-free, no hassle car shopping experience they deserve. That is why we have created the One Price, One Person Nelson Difference, so that you can experience how buying a car can be just as much fun as owning one. If you are looking for an oil change, tire rotation, tune up, maintenance, or other auto repair, you have come to the right place. Our 'Maintenance Made Easy' promise ensures a certified Mazda Technician will provide a full circle video inspection during every visit. We can also communicate with you through text, email, or call throughout your visit so you have confidence that your vehicle is getting the Mazda service it needs. No matter what aspect of the car-ownership experience has brought you to our doorstep, Nelson Mazda Tulsa near Jenks, Bixby, Owasso, Broken Arrow, or Catoosa is here to serve. Visit us today at 9902 S Memorial Dr. We'll make a believer out of you!
Nelson Mazda Tulsa
Tulsa, OK
9902 S Memorial Dr, Tulsa, OK 74133
Hours
Sales
Monday - Saturday: 9:00 AM - 7:00 PM
Service
Monday - Saturday: 7:00 AM - 7:00 PM